Stats about Anna, in no particular order:
President of Independence Park Advisory Council for over seven years
Mother of two aspiring acrobats – Son 4, Daughter 8
Day Job: VP Strategy, C & K Trucking
Husband, Bret, is a pilot for United
Life Before Park Advisory Councils and Kids:
Pre-kids, I was an avid sky diver. I can no longer spend the weekend sky-diving so look for other adventures. We've tried static and swinging trapeze. This last year we got into indoor rock climbing. Now, the whole family enjoys climbing on the weekends.
Volunteering:
My husband and I bought our house in 2009. It's located five houses away from Independence Park. When my daughter was young, Independence Park became a second home. In 2010, my neighbor forwarded an email asking if I wanted to help bring the circus to Independence Park to help raise funds for a new playground. The playground, by the way, had wood chips and old, rotting equipment. Independence Park also has a lot of special recreation programming drawing a large special needs population and we didn't have an accessible playground. That needed to change.
The Circus as Instigator:
The circus kicked things off. A core group, including myself and neighbors, got involved with the park advisory council that year and are still there today. We learned how to fund raise, organize and work with the Chicago Park District and elected officials hosting the first Midnight Circus in the Parks and many subsequent fund raisers and circuses.
No matter their mood when they enter the tent, people always leave Midnight Circus in the Parks with a smile on their face.
Rain, Sleet, Snow or Shine:
One year during our circus weekend, I was sure we would have to cancel. It wasn't just rain, it was a a downpour with very strong winds. But, the community showed up. We quickly moved ticket sales inside. Our pop up tents for face painting, concessions and ticket sales had collapsed due to the heavy deluge. The mud was so thick, our boots kept getting stuck in the mud, so we kicked them off and went around barefoot. The show went on, we filled the tent.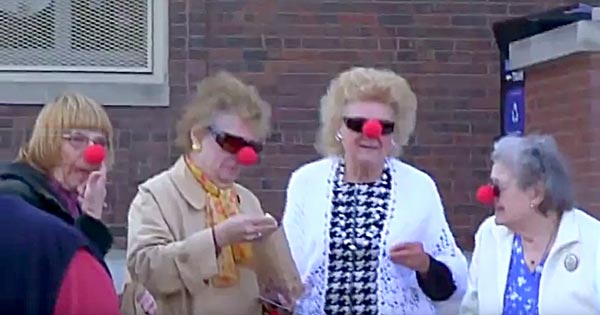 A favorite memory is seeing the young at heart wearing their noses along side the children running around with their red noses.
Circus at Home:
For our first circus in 2011, Sam [the daughter of Jeff and Julie Jenkins] was too young to be in the circus and it has been amazing to watch her grow up and become a circus star. Even though we only see the Jenkins family once a year, they have had a profound effect on my family. After the circus tent comes down, my kids play circus for months afterwards. They sell tickets and stand on furniture to perform.
Dollars Raised:
To make the playground happen, we had to raise $100,000. I'm proud of what we as a community have been able to do. This money was hard fought and hard earned in nearly $25 increments. The Chicago Park District, our Alderman, John Arena and our State Representative, Jaime Andrade, came up with the additional revenue needed and figured out how to make this playground happen.
Just before Thanksgiving 2016, our community was given something to be very thankful for, we got our new playground! We plan to have a BIG party and ribbon cutting ceremony in the spring. It's so fun to see the community out and about, even in this cold weather, and enjoying the new playground.
Fun fact: I have never actually sat through a show. Maybe this year, since Independence Park is not hosting the circus, will be my year to see the show from start to finish.